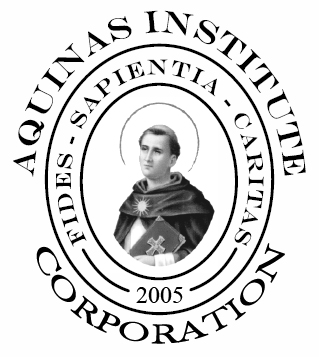 WHO WE ARE
HISTORY
In 1997 Teresita Nixon registered a sole proprietorship with the name of Aquinas Institute. She thought it best to name her dream institute after St. Thomas Aquinas, the greatest doctor of the Catholic Church. St. Thomas Aquinas is an epitome of intelligence, wisdom, holiness and never ending love for Jesus in the Holy Eucharist.
Moreover, Teresita was educated from kindergarten to college for a total of 15 years at the University of Santo Tomas in Manila, Philippines. In gratitude, appreciation and loyalty to the members of the Dominican Order at the university, she decided to follow their good example of having St. Thomas Aquinas as the patron saint of Aquinas Institute.
The founding board of directors of Aquinas Institute included Fr. Paul Pang of Taiwan; Fr. Lukose Cheruvalel of India; Fr. John Gibson of Sierra Leone; Dean Francisco Reyes of the Philippines; Nicolas Tumbelaka who later on was ordained as a priest; Nena Sison; and Teresita Nixon. Nicolas, Nena and Teresita worked together in the Antonian Club at St. Anthony's Church in Vancouver. In 2004, Aquinas Institute welcomed Msgr. Pedro Lopez-Gallo, P.A. of the Matrimonial Tribunal of the Archdiocese of Vancouver as its first spiritual director and he continues to be the spiritual director to date.
A CATHOLIC ORGANIZATION
Aquinas Institute is anchored on the principles of faith, knowledge and charity. It is committed to follow the dogmas and teachings of the Roman Catholic Church. It gives its allegiance to the Pope and to the Archbishop of Vancouver.
In 2000 Aquinas Institute received a special Papal Blessing from Pope John Paul II through Fr. Paul Pang, Chairman of the World Overseas Chinese Apostolate. Pope Benedict XVI also bestowed on Msgr. Pedro Lopez Gallo and the members of Aquinas Institute his special, apostolic blessing.
Aquinas Institute started its activities by helping in the parishes of St. Anthony's in Vancouver; St. Paul's in Richmond, St. Joseph's in Port Moody, Corpus Christi in Vancouver and at the Holy Rosary Cathedral. Aquinas Institute through Teresita Nixon was actively involved in organizing fundraising projects for an elementary school; Lenten and Advent retreats for 200-800 people; first celebration of the Feast of Our Lady of Guadalupe for 800 people at the Holy Rosary Cathedral; sponsoring youth groups to the World Youth Days; publishing prayer booklets, pilgrimage brochures, Lenten and Advent magazines for free distribution to the parish communities. In 2002, Aquinas Institute assisted Fr. Donald Neuman, Fr. John Horgan and Fr. Patrick Tepoorten in the successful organization of a youth conference and holy hour for 700 young men and women during the Visit of the Relics of St. Therese of Lisieux, which was held at Our Lady of Fatima Church in Coquitlam, BC. In partnership with Derek Lui of Sun Hang Canada Travel of Richmond, Aquinas Institute organized successful spiritual pilgrimages for 16-125 people to Oregon; Mexico; Quebec, Ontario and New York; Portugal, Spain, France, Italy and Croatia.
In 2004, Msgr. Gallo led Aquinas Institute in the successful publication of its 235-page book entitled "Meditations on the Holy Eucharist". With the Imprimi Potest from Vancouver Archbishop Raymond Roussin, SM, the book was a compilation of religious writings, homilies, essays, testimonials and poems written by bishops, priests, religious nuns, seminarians, members of the laity and children. It also contained the Encyclical of St. Pope John Paul II, "Ecclesia Eucharistia", with permission from the Vatican. The book was officially released at the International Eucharistic Congress in Guadalajara, Mexico in 2004. This book won the Honorable Mention Award in the Independent Publisher Awards in New York in 2005. Limited copies of this book are available for purchase by email to info@aquinasinstitute.ca. Price: CDN $25.00
AQUINAS INSTITUTE CORPORATION
On September 9, 2005 Aquinas Institute was incorporated with the Ministry of Corporate Affairs of the Province of British Columbia, Canada.
Our mission statement:
To help people.
To provide quality service to our clients.
To give integrity, dignity and professionalism to the people working with us in the hope that they would be happy, they would provide quality service to our clients, and they would pass this happiness to their families.
To share our resources with the needy around the world.
Aquinas Institute Corporation officially opened its business with the establishment of its interpretation and translation services on January 3, 2006. See the Vancouver Sun newspaper, "Open for Business", January 23, 2006, p. D4.
The corporation provided court-judicial-legal interpreting services to the BC Courts, Canadian Federal Courts and legal firms. Its massive recruitment of interpreters resulted in a big database of over 3,000 registered interpreters and a large scope of over 250 languages and dialects in which the the company could provide interpreting services.
Aquinas Institute was committed to providing quality, accurate, confidential, punctual, ethical, and professional interpretation and translation services.
In 2006, Aquinas Institute started offering a court interpreter training program, which had become its well known trademark as the "Aquinas Court-Judicial-Legal Interpreter Training Program". The Aquinas training was the fastest way, the most practical way and the most economical way to learn court interpreting. Many graduates were successful in getting hired as contractor interpreters in courts, government agencies and legal firms.
Aquinas Institute was an equal opportunity contractor for interpreters. It did not discriminate on the bases of race, ethnic origin, color, religion, language, sex, beauty or disability.
Aquinas Institute gave work to professionals, religious ministers, college students, high school graduates, the retired, new immigrants, the unemployed, those on social assistance, and visible minorities.
On May 26, 2016 Aquinas Institute was granted a licence to operate as a travel agency by Consumer Protection BC. It now operates under the DBA Aquinas Holy Land Tours. Although Aquinas Institute specializes in Holy Land Tours, it also organizes tours in Canada, the United States, Mexico, Asia and Europe. Aquinas Institute continues to train court interpreters under the DBA Aquinas Institute.
On August 1, 2016, Teresita Nixon registered the Aquinas Legal Interpreters Corporation to take over the interpreting service business of Aquinas Institute.
AQUINAS' CHARITIES
In sharing its resources with the needy around the world, among the beneficiaries of Aquinas Institute's charities included local parishes, youth groups, senior homes, sick people, an orphanage, a home for street kids, and the homeless in Canada, India, Mexico, Nigeria and the Philippines. Aquinas Institute granted scholarships to needy university students and seminarians in the Philippines; made charitable donations to Snehalaya (home for street kids) in Guwalhati, India; an orphanage in Mexico; and a poor parish in Nigeria. Aquinas Institute financially supported vocations to the priesthood, catechism and Catholic university education in British Columbia. It also helped pay for funeral Masses and burial expenses for the dead faithful. In 2016 Aquinas Institute was instrumental in the successful organizing of the Table of Hope Banquet, hosted by the Archdiocese of Cebu and the Archdiocese of Vancouver, for over 1,000 needy street kids during the International Eucharistic Congress in Cebu City, Philippines.
On November 13, 2016, Teresita Nixon, in association with Aquinas Institute, received the Papal Honor Award – Benemerenti Medal – from Pope Francis through Archbishop J. Michael Miller, CSB at the Holy Rosary Cathedral in Vancouver, BC. The Benemerenti Medal is a medal awarded by the Pope to members of the clergy and laity for exceptional service to the Catholic Church.
IN THE FUTURE
Aquinas Institute currently maintains four websites, namely,
We invite the clergy , religious nuns, seminarians, members of the laity and children of the Catholic community to submit religious writings, homilies, essays, testimonials, and poems for inclusion in the Catholic meditations website. Please email your article to Teresita Nixon at info@aquinasinstitute.ca. All submitted articles will be reviewed and approved by Msgr. Pedro Lopez-Gallo, P.A.
Under the spiritual direction and guidance of Msgr. Gallo, Aquinas Institute will continue its apostolic mission of bringing people closer to God the Father, God the Son Jesus, and God the Holy Spirit. May Our Blessed Mother, St. Joseph and St. Thomas Aquinas help us accomplish our mission for the glory of God.